Doorstep 1
< previous | next >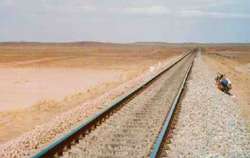 Trans Siberian Tracks November 1996
So 3 weeks after returning from Asia I left home. Cross Europe, along the Middle East south to Aswan, Egypt. I started to experience the potential of this life-style. I still feel privileged that I am accepted by all these people. The warmth and love of the people I enjoy on the road justifies my place in their world. Something money can't buy. Well in that part of the world, I was taken care of, I had inner problems accepting this extensive hospitality.
In Aswan, I felt strongly that limiting myself on the road by the factor time is just being masochistic. Africa was calling, me big time. But having to wait for 6 weeks to obtain visa to enter neighboring Sudan made me decide to fly into India and from there to cycle home. After India, Nepal and Tibet, I rode through the former Soviet-Union and former east bloc to cycle back home again. Home determined to focus on riding the world. To ride with an open time horizon, my only way to benefit from having handlebars and brakes between my own fingers. Interpreting the world as a garden. It also gave me the confidence to decide to live according my own feelings.
Work and Home
After another 9 months job I left in the summer of 1994 for the second time the doorsteps. Now free of time pressure and sure not to break my trip through land only by sea. I reckoned the longest stretches to ride without being confronted by sea are along the longitude of the globe, vertical lines on our flat maps.