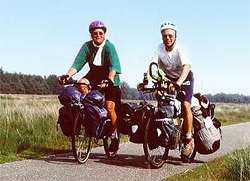 Mom's occasional visit May1994
The next long lap of preference is from Fireland to Alaska. I started in January 1997. Patagonia is another desolate part of the world and famous for its' pampa and (head)wind. The snowcapped Andes mountains as a backbone to my left and around me the chocolate coloured pampas. The feeling of South America only came further North as I approached the Altiplano. Apart from colourful clothes and weather beaten faces, their music and food is very rich and tasteful. I felt in love with a Swiss girl though. After crossing the Panama canal, we entered Central America. Not with Heidi but with Argentinean friend, Santiago. The high humidity and heat is stunning and the support of the people enormous. Cycling with Santiago Todo Loma,who was robbed his money, we improvised to the max to obtain food at markets, industries, ect. That enabled us to continue into Mexico where we split up as he was about to meet his brother. At the same time an email reached me what shattered another relationship with a potential long distance partner, from Cuzco, Peru till Veracruz, Mexico I cycled with my(?) sweet Swiss girl in my mind......., ignoring all those Latin girls making moves....... Another lesson to stay on line with the moment, rather than making future plans and so creating distractive expectations.
By November 1997, 1 arrived in the United States. After crossing the Rio Grande, I left another episode of my tour, 'Latin America'. Heading for Alaska for the coming, summer I thought of opening myself a bit extra up to the outside world. I seem to scare off Northern Americans, at least in Southern Texas. I am associated with 'homeless' people so I was told. Indeed I am homeless for having a nomadic lifestyle. As a consequence people seem to keep distance. For the first time in my life I know now what it feels to br rejected, like when people lock their car and move a bit closer to the traffic fights, looking very affected, even frightened. So as I was selling Christmas trees in my Hometown again, while seeing old friends, I picked up my mother for a ride through the South East of the States in order to wait the favorable season to go further North. We had a brilliant time together. I can summarize it as the Church trail, since we were mostly camping in church lawns or fellowship halls. I never attended so many masses in my life. She left me where I joined with the trail from South America, in Fort Worth, Texas.
Today I am already in the North West corner of the States, in a little town called Echo. And as I rode into town I managed to open my mailbox on the net. In between many letters I found Richards' letter and I was happy to read that he managed to create his own home page, something he strives for during 1 year. Already as I was in Lima, Peru he called me after getting my email and came up with the idea to have a home page so that the friends worldwide are able to call in whenever they felt like. So now from Echo, Oregon I echo back to him. Let's do it, to have a bunch of cyclist together on one web site. I try to feed the home page regularly, depending on accessability and inspiration.

Stay in touch ,
Maarten Haentjens Dekker