Newsletter 09
< previous | next >
Ulaan Baatar
13th of June 1999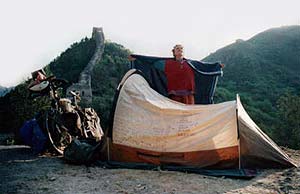 Camping along the Great Wall May 99.
Today is Sunday and I try to have my first quite day after leaving my girlfriend's place, May 2nd. Many of you, especially those overworked in a career, must think this is a ridiculous statement. Maarten is already 8 years on holiday, what is he trying to say.
Well, all relax please, I try to do the same. For today I only have emailing in my mind and playing with the children monks at the Lamrin Monastery. Although, looking to my bike next to the kitchen door, I have to fix a puncture too. Of course I can just inflate it a bit, the easy way, I think appropriate for having today proclaimed as REST.
I just realize it now, 6 weeks on a row on the go. Last 10 days have been extremely in the 'low battery' mode. I will tell you later what else than 'just not enough time for myself', made me come to that stage. This morning after having slept in, I heard a full minidisc of 74 minutes for the first time. I recorded it April 30th. Sofar I didn't see an opportunity, also because my solarpanel wasn't working.
Well, as I am writing I am listening to 'Sarantuya'. She is Mongolian and popular in her country. Probably because of Sunday, an electric candle is glowing on the little cupboard, dedicated to Boeddha. Normally during the day it's switched off, after turning the prayingwheel. I realized it has to glow at night, as I slept one night in the office/tv room and I asked to blow the candle out. ' Orgal', the 18 year old son of my host 'Chimeddorj', told me in broken English," No this is a Mongolian thing". I just asked if the candle stays on at Sundays, Chimeddorj reacts with turning the praying drum and putting the plug out of the wall. Sunday is a official restday in Mongolia, but not out of religeous perspective.
Back from SouthAfrica


I ended last letter in a freezing and sunny Holland in the mid of February.
Very happy to see my niece and nephew, other family and friends. I thought of making a little Europe tour to meet some friends I am probably not to see for coming 2 years. My last long haul is dawning, from Mongolia back to Europe via Arabia and Africa. The only long horizontal overland- leg to be made on our globe. After having the 3 vertical ones behind my tyres, I left about 20 wornouts tyres in the process, this is what I still want to experience.
Summer season is short in Central Asia, I have to start May at the latest if I want to be 'winter safe' in October. Have to walk the diplomatic route first, obtaining Mongolian, Russian, Kazachi, Uzbek ect. visa, but I also want to meet some friends.
Little Europe Tour


A good old friend of mine, 'Dennis', aks me if I don't want to join him for a few days Austria, to the snow with his 5 year old son Tim. Luckily, with a bike I don't need to book plane seats and Dennis offered to put me up too, so I don't even need to make hotel reservations. That could be the natural start of seeing my friends in Europe. With Dennis I share a goldmine full of youth memories. Funny enough, living closeby, the last 10 years, we only seem to make short visits , everytime I am in the neighbourhood, but we never undertook something too look back too. This is a good opportunity. At the same time, Alica, my girlfriend I left for the sake of cycling the world, is coming to see her sister near Bonn, just 5 days before Dennis wants to zipp off to Austria. Bonn and Frankfurt are close to the "Rheinische Autobahn" to Austria, so I meet her first, getting my Mongolian visum in Brussels on my way to Bonn, may be symbolically because I like her so much I could refrain from cycling further. We meet at the spot where we separated.
Wintersport


As Dennis picks me up on Raststatte(restarea) 'Medenbach'west of Frankfurt, I am very blue. He notices it off course, knowing me for 23 years. We have a marvellous stay in Brixen-im Thale. Always it seems, if you go somewhere with no expectations, the scenario unfolds itself and everything happens which was suppose to happen. A skiresort is a bit out of my lifestyle but we stay in an old farmhouse, I can sleep on my own mattrass and so only have to pay for breakfast and showers. We go to restaurant every evening. Five year old Tim has a ball, joining his father and friend on a holiday. I am introduced into snowboarding and I love it !!!." Better than making love", I remark in front of a little queu at a lift. It is a very natural feeling, much more playful, naughty than skiing. I meet 'Jorien' a Dutch girl has been snowboarding for 6 years and who knows Dennis' sister well. The first day I already take the steep 'Kandleralm" couple of times. Pure bliss, something else to stop cycling for. At the same time I remember in little things like sound of skilifts, smell of forest, skiboots, the 'Semmelchen", little Austrian breadrolls, screaming crows. Familiar from 10 years ago, while living another life. I realize that this is not my world at the moment. You have to have here a regular income, to recreate here. This makes these 4 days even more special. Never will forget the evening we went 'Rodeln', sleighing with 10 others, being pulled up a narrow forest road by a drunken driver. We feel like little children again. Up in the little shed, it is custom to drink courage for the downward part. There is a guitar and one of the guys 'Lesley" is a professional base player, 2 of the girls have voives like nightingales, so we had a little jam session there, fotographed by Tim who is just 'digging it'.
Unforgettable moments, Tim even manage to ski big descents only to be with us, he likes me a lot. We play guitar together too every evening before sleeping. Then it is time for them to go, they leave in a snowy night. I feel lonely, got very used to them. We sure made memories, good Les would say, "that's it man, that's it !"
Italy


I stay the day with Jorien and parents. They stay the winter here in a little warm caravan. They bring us to Worgl railway station, Jorien has to train to Munich, and I might as well ask how much train costs to Venezia. Really peanuts when used to skiresort prices, so I will sleep in train instead of hiking along the road. Train leaves at 1 in the night. I have some Austrian schilling left and I ask the man behind ticket counter, where is a affordable restaurant. He sends me somewhere and there I end up having a very interesting meeting with a retired Dutch gallery owner. She knows everything from the 30's paintings in Holland, Bergse School. And she knows much of life. Very interesting. She orders me extra food and wine so I can't spend my schillings.
I have to run on slippery road to catch the train. I wake up just before Trento where I sleep further on the station. Next train to Bassano s/Grappa, though sunny landscape covered in fresh snow. I stay a week with a friend and her family. They run a 4 generation old bakery. She introduces me to yoga and many of her friends, she cultivates quite the social life. During the day I study Russian and guitar in the backgarden of the big family house. First signs of spring, but there is always a maggy, foggy air which seem to characterize Veneto.
By train to Genova, the birthplace of Colombus. I meet a friend almost in a same mood as 7 years ago, this time even worse. She lost many kilo's . One of the reason was a troubled relation with her boyfriend, who, on the day I called her to say I am coming, left a letter on the office where she works. Containing a wedding declaration of him with her best girlfriend. She is shattered, with Elle, her dog we make long walks and talk about life. Makes us wonder, why do I meet her for 2nd time in 7 years and eachtime she is in a crises....
Liguria is a nice part of Italy. Steep mountains meet sea. Blue mediterrenean, olive tree yards on the terraces built for centuries on the mountains. Nice little houses which gardens, and yet so close to city of Genova. A little bit inland, in Marsiglia, a small community high in the mountains, the family Testa lives. Was also 7 years ago to have been there. It's nice to meet and quickly connect again. They inspired me greatly by not to care too much about quest for financial security. They live season to season, selling exotica ect. on markets through Italy. Security is having trust in yourself and environment. "Money can't buy that, only distract you", Marisa would say.
Switzerland


I should have stayed longer than the 5 hours I did, but I wanted to take train next day to Switzerland to stay with Alica, just as weekend starts. She has busy job, making long days. From one weekend comes the other and before we realized, I stayed one month. It was so nice. During the weekdays I studied Russian and Guitar, did some bicycling through Zurich, met other friends, the disabled children at the Mathilde Esher Heim where I gave a slide lecture. I enjoy being houseman, cooking meals and groceries.
Flashback


That was when I had the last peaceful day, may 2nd. I realized that last evening, here in Ulaan Bataar. I cooked for the family a dinner. Cabernet Sauvignon as a taster, than mixed salad as a starter, a flemish stew as maindish and chocolate pudding as desert. Only coffee was missing and cheeses but it was for them an exotic happening. If only the way of eating, on a high foot table in high chairs. I looked in my glass of wine and suddenly discovered the origin of my gloomy mood. Cooking in a kitchen, drinking a dark red, sitting around a table with candle like this...... It brought me back to May 2nd, I feel so funny trying to find logic in me being here.
May 5th, QUEST CONTINUES


Proudly look back that I prepared everything tip-top. Extra features such as a guitar, plus rack on bike, an md-player, new solar panel, lot's of visa stamped in my passport, even Iran, new cover for the scrapbook, 2 heavy 30 year old camera's, a tuned-up ragged bicycle. Aluminum front rack repaired, new bottom bracket, rejuiced bearrings, new cables, refreshed front bags, new spinnaker(dacron)tarp, Ok, I could have called a few friends more, maybe send the mail a day earlier, not the morning of departure, but as always, one feels without worries once you close the door behind you anyways..
I left by plane from Brussels 3 days later. My dad brought me. It was nice to be with him. It was hard to see my niece and nephew go. I start to really dislike departures. May be it is better to leave just once and come back 8 years later, done with the long travels. I got a cheap ticket with KLM, from Brussels to Amsterdam, switch plane to Beijing direct. I couldn't start directly in Amsterdam with this ticket. Because of Clinton's visit to Amsterdam Shiphol, our little Fokker plane had to wait one hour in Brussels. So I was going to miss my flight if not that they had to change the big bird because of technical disturbance. Arriving in Beijing, I smell the communist atmosphere in the typical style of the airport, ceramic tiles walls of building, dirty aluminum door-and window frames. The cleaning crew was dressed and positioned next to the plane like a platoon of soldiers. Yeah, China is still red country, these were the first recollections with other visits to China. The bicycle is still in Amsterdam. So I slept an night at the airport, happy with the huge bag of breadrolls and cheese donated by an air hostess. My last cheese and bread for a while. I am glad to see the morning twilight and to hear the birds sing through the tinted windows of the now quite departure hall on 2nd floor. This is also China, despite many regulations, as a foreigner you seem to be avoided, one is not allowed to stay overnight at the airport. Nobody bothered me...
The bag isn't coming which the alternative flight, printed on the form they gave me.That's when I go and visit KLM office again, this time open. I am not in a friendly mood, but this time the support is professional and bike is soon tracked down, in Shanghai. Half hour later I learn that its downstairs. Outside the hall, in a little parc, I assemble the bike again. It's pleasant spring weather in Beijing, 25 Celcius, breese blows the flocks of cotton from the trees, like hollywood snow. China.... Many old memories are triggered by this atmosphere and I seem to re-connect to the old impressions quicky. Even some chinese words come back, like' Timbedong', I don't know. I have 2 volunteers helping me like assistants to a surgeon. One is a security agent. They adore my bike. Many hotel-vans, busses and taxis pass my spot. I read the elegant names of international hotels, all present in booming Beijing.
On the road again


By twilight I am ready, I cycle back to the arrival hall and get a map at a hotel-service counter. The people are intrigued by the bicycle and very supportive. The bike feels so funny, fully loaded up. Well not even fully, food and water is still missing.
As I cycle into the evening, I join 3 other cyclists, coming from their jobs as security agents. They show me a street with little foodstalls and I dig in a huge bowl of noodles, typical rickshaw food, cheap, a bunch and lots of carbohydrate. The girls speak little English. Many people join the scene. Lovely what a change. And so recognisable, its' like it is october 1996 again. Stuffed as an egg and miouth full of oriental flavours, they bring me on the good track, at a railway crossing. As they disappear in the dark, I enter a cosy little shack where the railwaycrossing attendant plays a game of chess with a friend. I got offered a couch and tea and we share nice moment. A bit further I turn of the dark road full of Jiefang trucks, fuming that special smell, so typical for China to have my first night out, under the stars. Big dipper right ahead of me. Smell of growing wheat, in the morning the 'plof plof' of the 2 wheeler tractors, and a herder with a flock of sheep. Yes, I am in China.
Tianman Square


It is a nice sunny day as I am already peddling my way north along the airport as I decide to turn back and go into Beijing. When will I be here again? I peddle right through the skyscraping center, but first I pass European styled apartment blocks in the suburbs. Crowds of people and lots of movement. I have my 3rd meal in a little alley and head for TianMan Square, Forbidden City. I couldn't think of a more appropriate start of my last long haul. And so I did. Funny atmosphere around, lots of security agents who were intimidating pedestrians, and myself, trying to make a shot of Mao and Maarten together.
A funny feel when the police came angrily to me chasing away the Chinese visiting their monument. They come from allover the Peoples Republic. I first felt like I have to back off. But than it turned out that the security is trained to give Caucasian tourists clearance if surrounded by Chinese. And they do that in a brutal way too.. I enjoyed most the Chinese dressing themselve up in the old Dynasties' clothes, posing next to old items like a throne, an stuffed horse, an classic British car. Amazing how thesee suits give them more personality. They look so much better to me than in Western-styled clothes. The Forbidden City itself was closed. I absorb the feel the thick walls and doors gave me. As I walked back a platoon of soldiers and their sergeant, marched with fierce over the grounds. Quite an imtimidating feel as well. Well the 2nd evening still in the road, it is a long ride out of Beijing. I eat at 2 little shacks and finally find a peaceful wheatfield. I sleep like crazy.
Through the mountains


North of Beijing is fertile flat land but soon a mountainrange is shimmering through the haze. I manage to find the road through there, my 'greater Beijing' map is pretty dodgy. I sweat my way up the first climb and find a family picking flowers. You can eat them. They supply me with water and are very interested in me. I enjoy the mountains a lot. They are suprisingly green. It's a Sunday and there are many Beijing people recreating in the mountains. After another climb the first thunderstorm. I seek shelter in a little restaurant in a village and they cook me nice food. Than joining the twilight again, the road goes right through the Great Wall, next to a riverdam. That's where I pitch tent. Now I feel like I am on the road again.........
To the Gobi flatlands


I pass the wall 2 times more on my way north to the arid flatlands. In the process, I wind aside rivers through valleys. All farmer populations, living in clustered communities and being very active because it is seeding season. I am enjoying life a lot, despite not being able to talk its nice. The more north I come the warmer my butt gets inside their houses. Their combined bed, sitting'terrace' in the house is heated by the kitchen stove. So it is really warm. More and more the land changes from mountains to flat, from green to brown. It is nice to see them ploughing the land with donkeys and cows, who go along well together. All those little carts along the road and in the fields.
Arrested again


Just as I completed a long dirtroad, while arriving in a town called Huade, Inner Mongolia, my fairytaleworld is shattered. Right from the beginning, I have this feeling that there is a price on my head. Caused by past experiences of being caught by police for being in a 'closed-to-foreigners' area. This time it was close to dark as I speeded through the town with lots of military and buildings with antennas, my indicators for being extra careful. I made one mistake, allowing myself time to ask for water in the last house on the left. That took a while and just happy to be in the dark steppe, almost stopped for a camp, 4 policemen on 2 motorbikes stopped me. They ripped the sleeves of my jacket and bended my handlebars off centre. There was no escape, and yet I was so close to the bush. Now it could have got ugly if I persisted, so I rode all downhill back to centre. Always the same procedure, they get hold of local english teacher, show me thier badges, want to see and keep passport, than they bring me in an dusty, oldfashioned office with orange couch and as one of them is assigned to write everthing I say down, they want me to confess I broke Chinese law. Then they are sorry to tell me that they have to fine me. The english teacher couldn't hide being amused to tell me my head is worth 500 yuan, $62. Well I am sorry to see a young woman being so formal, without any light in her eyes, I bet she never gets her lips wet. And as far as these policeofficers are concerned, especially the feroceously angry and drunk chief, who would have liked it so much to punch in my Caucasian face, let them have the money and just sip their communist misery away. Brainwashed robots, all of them. I thought they would leave me in peace, so I could continue but no, they wanted me to book a hotel. I don't get my passport back, the drunken chief shouts and he puts his flat face close to mine. He tries to intimidate me. I end up having to stay in a too warm policeshelter.
Next day I am deported to Headquaters in Yinning, from there to Erlian. Well, that's enough China for me for a while. I really like the people, although tiring because of their number, but I just don't want a 6th time procedure by those bureaucratic brainwashed rats.
Modern Caravansary' Erlian'/'Ehrenhot'


Erlian, busy business border town with Mongolia It's the second time I am here, back in 1996 I stayed in the staff-dorms of a kitch hotel. This time I have a tree plantation as my base. An older couple are caretakers and they are really so sweet. A good resting point, close to nature and yet so close to wheeling and dealing Erlian.
I recognise a lot and I am recognised too. I stock up with lots of food, do some work on my gear, visit postoffice and try to fax and phone, first possiblity since Beijing and last till Ulaan Baatar, 750 km down the dirttracks. Many Mongolian business men frequent this town hooking in cheap Chinese beer and vegetables, apart from trading. The Caravansary is on a major railway connection Beijing to Moscow, an oasis in the Gobi desert, not by the sake of a fresh water well, but by being situated on the only Mongolian Chinese border. Many travel by train, but some come by Russian jeep from Ulaan Baatar. They like a drink and its party time in the evenings. Bigscreen Karaoke TV Stereos blast till 3 at night on the street, Disco's swing on sweet music, and till the last person has found his hotelroom, the cycle rickshaw man peddle. There is no such town as Erlian, I concluded peddling headshaking back to the orchard late in the evening . I was kidnapped by a Mongolian trader just before. He chased me by rickshaw to invite me for drinking and eating. Ended up in my favourite noodle store and although the very friendly owner already cleaned the noodle-press, he cranked the kitchen up again. But than my company was just digging it, getting drunk like skunks, so he was unable to close his stall. I had to knock on the door for 15 minutes before the old man woke up and walked with me to open the orchard gate.
In Mongolian Mongolia


There is 3 Mongolias, divided by scars of history. Inner/Ur of Neimongol, indicating Chinese part, the Russian part North, don't know the name yet, and whats left of Chinggis Khans' empire, Mongolia itself, which I am about to cross now. After 3 days its time to go. Crossing that border is not a piece of pie, and it turns out that things only became worse since 1996. It takes me 8 hours for 5 km's. With as highlight a Chinese officer bringing me a lunchpacket, as the border closes for lunchtime. After having showed my passport countless times, being almost ripped in the process, as they fold through its' pages like they are shuffling cards I am not there yet. Still 2 more checkposts and at the last one, operated my the military, their sergeant takes my passport and is than distracted by a sudden wave of trucks and jeeps passing through. So for the next 15 minutes he is disappeared behind the vehicles, and I just freak out. The young soldiers can't help to laugh, also I see the humour in the situation but I am just so annoyed. I am deported in a Russian van to a militairy base. I just sit there against my bike with my hands in front of my eyes. I told the van driver already, bring me to Ulaanbaatar or Moscow, I don't care anymore. Is Mongolia going to be like China, another price on my big nose and blue eyes ? Well if that is the case, they better deport me now. I noticed that I am very easily irritated and more impatient than ever. After half hour I get passport back and I change from road- to dirt tyres. Befriend with the spectators around me who offer me milktea and a filled-meat bread. I plough through the sand which is spreaded allover this town, passing wooden shacks and white yurtas, nomadic houses. I find relatives of a family I stayed with in 1996 and stay the night in this funny community with white church-like building called Samood. The children are so un-shy and active that I almost faint from tiredness. The wooden shack is nice warm. I wake up with 6 others the next morning.
To Ulaan Bataar


Happy to leave the people and cycle into the vast quite steppe, following basically the railway line. I always find wood and cow/horse dung to make a fire, a railwaystation for water, and as I get more north more nomadic families herding sheep and horses. Gradually my foodbag slims down. I haven't changed at the border and I only spend the 400 turuks until changing in Ulaan Baatar. I got them from 'Erinbol', a Mongolian trader I met in Erlian. That's $0.40 in American money. 'It is a Rough road that leads to Greatness', I quote from a picture put into my book by Texan friends last year. It depicts a cyclist standing on his peddles, climbing a mountain. Well I should have arrived in 'grand style' after16 days creeping with a sore bum and finished legs over these rough tracks. Never peddled in a nice gear, always something against me. The great Northern Blue, headwind blowing from Siberia in my face, corrugated patterns and sharp stones under the wheels, I just creeped. Got some variety in forms of soft sandy patches, so I followed railwayline, thorny bits, facing 27 punctures in 2 days, so I run out of patches. Sticky mud after another thunderstorm. And not to forget the always present flies trying to suck the eye,nose or ear-juices.
Well, the rewards were dished up as magnificent landscapes, hospitable people and a magic silence and darkness which I enjoy so much. Silence after the wind dies down. And as a good friend of mine emailed me back, despite the hardships, at the same time one is secretly enjoying it, than later it are golden memories. And I think he is very right with that statement.
In Ulaan Baatar


So I arrived in UlaanBaatar one week ago, June 7th. I craved for different fresh foods. I have been eating flour and meat in some different textures but always boiling down to the same DNA. I stayed at friends in a monastery the first night and when the director asked what I need more, I answered,"a shave", clearcut head. So he takes the razor out of his deskdraw and so I left my hair at a memorable place. I didn't sleep though because the Ulaan Baatar dogs rule the night.
A couple running the souvenir stall take care of me. I wash my clothess and body, They cook nice meal and we watch an American Channel.' Altansav' is a nice person, very helpful. He is business man, buys Boeddhist souvenirs in China. I didn't sleep though, moved my tent from his dog as the Big Dipper was already hanging low. With no result, Ulaan Baatar dogs have no mercy, are countless and rule very loudly the night. I can only remember one other city, Shigatse in Tibet like that. It is said to be reincarnated monks. Being both boeddhist cities I am willing to believe this. What they couldn't do in their former ascetic life, they can indulge in now, rambling and scrambling. I never understood how monks could accept their destiny in becoming a dog....
I have tea and bread in his house, than he calls a friend of my father's friend, Mr. Chimeddorj, and he comes to see me. He is an artist painter and invites me to stay in his apartment. And that's were I have been staying sofar.
After 1 week, I am very eager to continue, but I have to wait for Kazachi- and Russian visum. I hope this Friday the road is formally cleared up to Oman where I am expected to arrive in November.
I will inform you somewhere along that road again.
Have a nice summer on the Northern Hemisphere and a cosy winter down South, and a quite cyclone season in the tropics.
I plan to leave Ulaan Baatar by Saterday the 19th. So if you like to respond, you can use Mr. Chimeddorj's address till 18th. chim_art@magicnet.mn And keep on using defietser@hotmail.com
I do get sometimes such amazing letters, very much relating to the situation I find myself in. Like little angels giving me a push in the back.
Maarten