Newsletter 11
< previous | next >

Tashkent, Uzbekistan
21st of September 1999


Dear friends,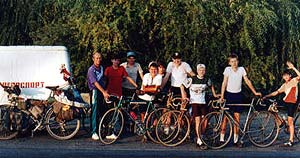 Uzbekistan's young cyclists in training, near Tashkent Sept. 99
With most of the Tianshan Mountain ranges behind me, I have found a caravansary for a little while in the capital of Uzbekistan, one of the many 'stans' dotted along the ancient silkroad. As life teaches me all the time, one can plan as much as one wants, but at the same time have to be flexible as a snake. So instead of winding down the almost 4000 m. Toroegart pass to an ancient caravansary city called Kashgar. I was kicked back into Kirgezstan again.
September provides us with lovely weather, fruits and vegetables are at their best, people sit outside in their gardens or on the street, sometimes on big bed-like furniture, complete with carpet and little table, enjoying their tea and company. Always one curious eye towards the road and always eager to wave.
I will follow this ancient silk route now to places like Samarkand, Buchara, Maschad and Teheran.
Visa wise the road is open for me, only I will have to rush a bit through Turkmenistan. I was allowed only a 4 days visa, one day more than normal, thanks to the help of the Uzbek Bicycle Federation which I met by destiny, as always being on the road with an open agenda:.
I arrived here on a Friday evening, not the ideal time to do business. I just took it as it comes, I wasn't annoyed by it and so I even had an entire Friday afternoon under a tree, enjoying a sheep-stew slowly simmering on a little fire, the sound of rushing water through an irrigation channel, and being by myself and not with crowds of people around me. I can feel the fall slowly approaching as leafs turn a bit yellow and the crops are harvested of the many fields here.
It is my favorite season to travel. The colors are mellowing by a haze, no cloud on the sky, light wind, it brings me in a relaxed mood. I have to be careful that winter won't bite me though. But than the document business and its' results keep me sharp.
I share the garden of the Federation together with 'Timur" the 20 year old son of the General Secretary of the Bicycle Federation,' Marat'. He is a promising racer and trains everyday. His dream is to ride in Italy and to save enough to come back and marry his girlfriend Natascha. He lives here by himself and takes a bit care of the premises. It is a common house with a garden furnished with some fruit trees and a pergola with grape vines. In the 3 days I am here, we created nice rituals like sharing breakfast, a real cyclist portion, than he goes training if I am not going out. His father instructed him to be my guide, which I find sometimes difficult because he has to wait quite often. But we are doing fine. We even divide tasks now, I end up here in a business office where I can quietly write a newsletter. Timur went on his bike with my passport to some travel bureau who can prepare my United Emirates visa. This way, it will be processed faster in Teheran where I hope to get this document.
Than on our way back we visit the Bazaar and we buy ingredients for our dinner, one unchanged item is a big 'Arbus", watermelon. After dinner we eat one cold out of the fridge, pure bliss in the mouth:
Since July I am enjoying these sweet red pearls from Central Asia. Timur told me that pilots buy them by the tens to fly them home. We live close to the international airport so he sees them sometimes in the bazaar.
Kirgezstan
After a super week in Almaty with my girlfriend, I had to get used to be by myself again. The calendar brought me back to reality again, I had only 2 days to get into Kirgezstan. A beautiful ride West along the snowcaps to turn south into them a little later. The 2 weeks I already seen them, from 100 km distance, made me think of a kind of ancient kingdom there high up these mountains which form a natural castle. I first encountered a very fertile and well irrigated valley though, with abundance of fruit and vegetables. I noticed that their houses and yards are is in a better maintained state as their Kazachi neighbours. I headed for the well advised lake Issyk Kul but fail to see it since I took a little road. I didn't feel in a hurry at all, and soon I find myself among rocky peaks riding on winding roads with little traffic. I enjoyed my stay with the herders a lot, they sure know what diary is:.
Closer to the pass to China, I was told I wouldn't have any problem. Loads of tourist they have seen, coming and going from Kashgar. That turned out to be the core of my approaching problem. Kashgar and its' silk road legency attracts lots of tourist dollars. Crossing the border as foreigner is monopolized by some travel companies, charging around 200 dollar (10 month income here) a head (cashcow). I see around 3 busloads passing here every day and yet there I stood with my valid Chinese visa 3 days in a row facing a Chinese 'NO'.. While my Kirghezian visa already shows an exit stamp, I saw no way back. I must have looked very convinced and determined. The faces of each of the 6 Chinese soldiers' face changed every now and than into aggressive cats not liking a dog, pointing to the gate back into no man's land, pushing my rig too. Together with the genuine Chinese food they cooked and I shared with them, that was as close I could get to China this time. They did what they could, phoned many times to the head station below. So I didn't want to bring them into a difficult position by just ignoring them and ride down this 4000 meter climb. I saw behind their formal face that they had some remorse, sending me in a hailstorm back, they realized I would have a freezing night in the snow in these barren mountains::..if not that I was so befriended with the Kirghezian side of the border.
Unlike their Chinese counterpart 8 km away, they like guitars. If the frontier-guards like my guitar better than me, it was hard to find out. I quess both of us. And sure they can play and sing. On an altitude of 4000 m(12.000 ft) they are staying on 1 year turns, only than they go down to see their family and friends for a month. They have to cope with severe cold, isolation (only video no TV reception, violent mafia, emptying their kalaschnikovs if they feel under pressure.
They allowed me back and wanted to send me by truck back to Bishkek through a snowy night. I couldn't stay on their grounds with an invalid passport. Than the head of 'Administration' appeared like an angel, opening his building full of empty rooms. That evening, alone and with snow sliding from the window, I opened the map glowing circle around a candle. A new horizon appeared to me, West along the silkroad to Iran. I felt the thrill, and although I just informed my parents and girlfriend that I won't be in the warzone near Os, Kirghezstan , this new road heads right towards it. Since it was a small road on the map, there was little traffic and many mountains to climb.
Right ingredients for a special time. Fairytale like. It was hard work but so interesting. Only fruit and veggies were absent. I got so used to it before. Now lots of dairy , like yoghurt, kummiss (horsemilk), cream, kurt (hard cheese balls), which I shared with the herders.
Security forces

Apparently , since a bomb attack on the president and central buildings of Tashkent,last February, Uzbekistan's forces are on high alert. Many roadblocks, strong border control, the whole lot. I was a bit weary, not having an Uzbeki visa riding to the border. But this time, I was given a royal reception. They fed me, they sponsored me, handing me 100 som bills and they instructed a mafia man to change my Kirghez soms.
I was also offered a 'bath' in a neighboring brothel, making obscene gestures and adding, "5 minutes no more and than Uzbekiztan pajedies (going). I had to be diplomatic here not to offend them in their generosity!!!
The chief was really involved to secure my passage through his country. The 4000 sums (8 dollars) should be, "more than enough to make it to Turkmenistan. I was instructed NOT to pay for fruits and vegetables, 'unas Mnoga", we have a lot in our country.
With his wise words in my ears I cycled into Uzbekistan, stopping at the roadblocks, 'document please' and enjoying to be out of the mountains for a while and thus around many people. But quite the drastic change. Uzbeki men are most inquisitive and feel no barrier to come and chat. Their bicycles riding aside me, stopping their car and waving me to stop, encircling me when I stop. It must be similar to be movie star. Everybody seem to spot me. Especially near the conflict area of Batken. It is fertile valley with many villages and so many people.
Common questions about my roots, maritial status, money, not afraid, what do I eat:. The men though, not the young women. They seem to avoid me, carrying a serious expression. Only in a group, like in the back of a truck returning from the cotton fields, they show their big smiles, wave and cheer.
I have to wait till darkness to take refuge in the fields to enjoy a quiet evening.
If I want to have a quiet evening tonight, I should stop now and try to send it to you.
Unfortunately I can't answer you back this time. I would like to but the provider is really to slow and time in office scarce.
I will be in Teheran around 10th of October. Might drop a line from there.
All the best my friends,

Maarten